Believe No One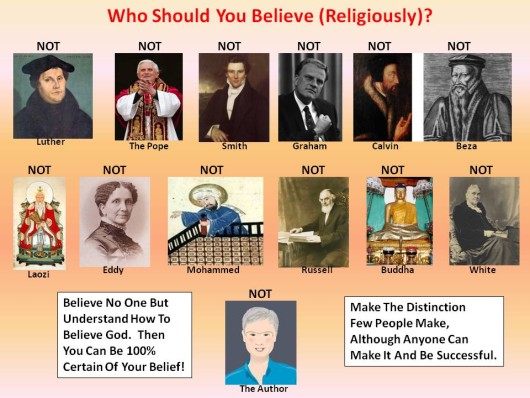 Here is the problem: Who should you believe?
Here is the answer: Believe No One
Do not believe me, do not believe any man or any woman of the past, in the present or in the future! Because this is the only answer that will get you to the truth! Apparently, many people believe they can speak for God and thus we have all these beliefs.
Do you think you are not bright enough to understand the truth? God did not design His truth to be found, accepted and lived by those who were "very intelligent." He designed the truth to be understood by those with good hearts, reasonable, reasoning people with attitudes like humility and a deep love of the truth and with courage to act on truth. You might be very intelligent or maybe considered less so as the world sees things but what matters is your relationship to God. In fact, God points to those who believe themselves to be wise as less likely to find, accept and live the truth. It is usually due to pride. Pride is behind the creation of most beliefs because this is how I SEE IT or this is MY INTERPRETATION. The question should really be what is your motivation, your prejudices, your sincerity about your belief. These creators of religious doctrine should never be given any respect because God has made the rules regarding truth. One verse taken too lightly by people but accurately defines authority is 1 Peter 4.11

1 Peter 4:11
11 If anyone speaks, let him speak as the oracles of God.
That is God breathed speech. You can only speak about God correctly if what you speak comes from God. How else in the world could you know?
Has God spoken through various individuals? Yes
Can we believe them? When you believe those individuals who God has used to deliver His message you are believing God. So after saying that you should believe no one, now I suggest there are some you should believe. Unlike, all those (and many more) at the top of this page including myself there are those with authority inasmuch as they are connected to God in a clear and understandable manner. In effect as you will see you are not believing any man or woman but you are believing God. God has communicated with man and it has been very orderly, very much after a pattern one would expect from God – A Divine Pattern. It is a pattern that is perfectly, completely aligned with His purpose.
In the beginning, God spoke directly to certain people, such as Adam, Abraham, Moses and then also to the prophets. In the last age God spoke through His Son –
Hebrews 1.1,2
1 God, who at various times and in various ways spoke in time past to the fathers by the prophets,
2 has in these last days spoken to us by His Son, whom He has appointed heir of all things, through whom also He made the worlds;

and finally, Jesus told His disciples after He was gone He would send the Holy Spirit to lead them into all truth.
John 16:13
13 "However, when He, the Spirit of truth, has come, He will guide you into all truth; for He will not speak on His own authority, but whatever He hears He will speak; and He will tell you things to come.
Hebrews tells us that God supported the disciples performing miracles to confirm the word.
Hebrews 2:2-4
2 For if the word spoken through angels proved steadfast, and every transgression and disobedience received a just reward,
3 how shall we escape if we neglect so great a salvation, which at the first began to be spoken by the Lord, and was confirmed to us by those who heard Him,
4 God also bearing witness both with signs and wonders, with various miracles, and gifts of the Holy Spirit, according to His own will?
Following the time when Jesus was received into heaven, the disciples went out preaching and the word they taught was being confirmed with signs. This was God's pattern to confirm the word at the beginning but then He indicates the signs will end when the word is completed.
Mark 16:20
20 And they went out and preached everywhere, the Lord working with them and confirming the word through the accompanying signs.
During this time in the first century, God worked with the apostles and certain disciples who "they laid hands on" in confirming the word. The word of God was completed, confirmed and now man has all he needs.
1 Corinthians 13.10 is a verse that is not well understood but supports this conclusion and is consistent with all scripture. Jesus is not that which is perfect in this verse (although He was the perfect sacrifice and lived the perfect, sinless life) because Jesus had already come and gone at this point. This verse looks forward to something that will be coming.
1 Cor 13:10
10 But when that which is perfect has come, then that which is in part will be done away.
When this verse is understood it also eliminates much of the confusion surrounding miracles, speaking in tongues and the many personal interactions people claim to occur with God. It also points to the fact that you cannot believe any man or any woman who may be claiming reception of insight from God.
THAT WHICH IS PERFECT would of course be perfect but also would be the most important thing. Jesus had completed His part, what was left? God's purpose was to provide reconciliation for man and that involved Jesus as the perfect sacrifice and then of course what man had to do to take advantage of what God had accomplished in His Son. On the first Pentecost after Jesus' death, God began to reveal the means of reconciliation. On that day people received forgiveness of sins, the gift of the Holy Spirit and God added them to the church. During a large portion of the remaining first century, God would gradually reveal the doctrine of Christ through the interaction between Holy Spirit and the disciples of Jesus. During that time the word of God would be confirmed in an outward way by miraculous signification. Peter near the end of his life would proclaim that mankind had received all things pertaining to life and godliness.
2 Peter 2.1-4
1 Simon Peter, a bondservant and apostle of Jesus Christ, To those who have obtained like precious faith with us by the righteousness of our God and Savior Jesus Christ:
2 Grace and peace be multiplied to you in the knowledge of God and of Jesus our Lord,
3 as His divine power has given to us all things that pertain to life and godliness, through the knowledge of Him who called us by glory and virtue,
4 by which have been given to us exceedingly great and precious promises, that through these you may be partakers of the divine nature, having escaped the corruption that is in the world through lust.

James would refer to the law of Christ as the perfect law of liberty.
James 1:25
25 But he who looks into the perfect law of liberty and continues in it, and is not a forgetful hearer but a doer of the work, this one will be blessed in what he does.
So, God's word delivered and confirmed stands as the thing by which a person can live and be successful or the thing by which a person will be condemned.
John 12:48
48 "He who rejects Me, and does not receive My words, has that which judges him — the word that I have spoken will judge him in the last day.
The word of God is referred to as the sword of the Spirit and also being sharper than any two edged sword inasmuch as it separates individuals into those saved and those lost. The word of God must be perfect to accomplish such a responsibility. Additionally the word of God must be consistent with God's purpose and thus perfect in accomplishing that purpose. In this sense, people of pride, selfishness, and many characterized by "wisdom of the wise" would reject God's word. I certainly cannot exactly explain the perfect nature of God's word but from what God revealed I can see it accomplishing His plan.
Hebrews 4:12
12 For the word of God is living and powerful, and sharper than any two-edged sword, piercing even to the division of soul and spirit, and of joints and marrow, and is a discerner of the thoughts and intents of the heart.
God ties the source of faith to hearing the word of God.
Romans 10:17
17 So then faith comes by hearing, and hearing by the word of God.
In Jude this theme of having all we need and the completion of the revelation relative to life and godliness (faith once delivered) is emphasized.
Jude 3
3 Beloved, while I was very diligent to write to you concerning our common salvation, I found it necessary to write to you exhorting you to contend earnestly for the faith which was once for all delivered to the saints.
The point is the faith has been delivered, all you need has been delivered back in the first century. All those pictured above have added to or taken away from the message. I do not believe I have done that but you need to be certain, you need to understand for yourself!
I do not know how God could make it clearer that the word of God is that which is perfect. At the time of 1 Corinthians 13.10 that which was perfect was still not completed. The word was being confirmed with signs and wonders but signs and wonders are not perfect just confirming. Man might think signs and wonders are best but with God it is His word that is perfect. In those verses of 1 Corinthians 13 there is also the indication that ULTIMATELY that which is perfect is love and there will be no need of faith for it will be seen and no need of hope because it will be realized. In fact, we know that those who love God will keep His commandments (John 14.15).

Three Perfect Things In New Covenant
And They Are Closely Related
JESUS – perfect sacrifice, perfect sinless life

GOD'S WORD (being confirmed during the first century) – what men/women need to know for salvation


LOVE – the ultimate in perfection for those who love Jesus and obey His word ….. Jesus becoming the author of eternal salvation to all those who obey Him
These three are inseparable in your success in life or if they are missing in your failure.

1 Corinthians 13.8-10
8 Love never fails. But whether there are prophecies, they will fail; whether there are tongues, they will cease; whether there is knowledge, it will vanish away.
9 For we know in part and we prophesy in part.
10 But when that which is perfect has come, then that which is in part will be done away.

Miracles have always had their place in God's plan and it has been to establish God as God, Jesus as Lord and for example Moses as led by God. Yet as the means for establishing faith beyond His message, God does not like or use miracles. People responded to miracles but He desired they respond to His words.
Jesus would say:
Matthew 16:4
4 "A wicked and adulterous generation seeks after a sign, and no sign shall be given to it except the sign of the prophet Jonah." And He left them and departed.
God's plan was to save people who respond to His word. His word, the truth separates people as pointed out above in Hebrews 4.12 because built into the word of God are problems for certain types of people (proud, selfish people) who God does not desire. On the other hand those with good hearts, humble, kind, forgiving will see and obey the truth. So, those who need signs, those who question God's existence and doubt God is the God of the bible will reject the preaching, even ridicule it. God makes it clear in the following two verses where your salvation exists:
Romans 1:16
16 For I am not ashamed of the gospel of Christ, for it is the power of God to salvation for everyone who believes, for the Jew first and also for the Greek.
1 Cor 1:18
18 For the message of the cross is foolishness to those who are perishing, but to us who are being saved it is the power of God.
It is God's plan to save people by preaching the cross, the gospel, the word of God because that is God's power to save. It is related to faith and not seeing or experiencing a miracle. Miracles essentially do not produce faith, but maybe produce wonder, maybe produce excitement, maybe produce a desired association but God's word provides the complete picture. It requires you to change your life. God knows you need the truth and to make decisions that can be difficult. The word of God, the preaching of the cross, the doctrine of Christ is what you need to live life in a way you can succeed.
How Could It Be Any Clearer?
Again, I do not see how this could be any clearer but because people still want a sign, people still want to focus on Jesus returning and even predicting when that will occur they fail to see the signs of the first century ceasing when that which is perfect has come. Obviously, everything ceases when Jesus returns again at the end of the world (if you understand Jesus' return in a scriptural way). Not only do we have the perfect will of God today but the warnings around changing it are powerful. Yet those who today remain in this "miracle world" receive messages from God, begin new beliefs, religions and either add to or take away from God's word making it useless. Indeed, you can see that everything fits together perfectly for those with a good heart but remains a dark and foggy path for the proud, the "wisdom of the wise." Above, we have seen that God's word has been completed to the point that Peter claims we have all things needed for life and godliness. What have all these people pictured above and many more like them added of value? They have added confusion, they have added deceit and all to the destruction of their own souls as well as those who follow them.
God made this clear by warning of the falling away and that it would come soon and of its deadly nature to your soul.
Acts 20:29
29 "For I know this, that after my departure savage wolves will come in among you, not sparing the flock.
1 Timothy 4:1-5
1 Now the Spirit expressly says that in latter times some will depart from the faith, giving heed to deceiving spirits and doctrines of demons,
2 speaking lies in hypocrisy, having their own conscience seared with a hot iron,
3 forbidding to marry, and commanding to abstain from foods which God created to be received with thanksgiving by those who believe and know the truth.
4 For every creature of God is good, and nothing is to be refused if it is received with thanksgiving;
5 for it is sanctified by the word of God and prayer.


Paul would give the same admonition as Deuteronomy 12:32 – not to add to or take away from God's word. But he would say it in terms of the gospel in Galatians 1.6-9 that no one should preach any other gospel than what he delivered.
Deuteronomy 12:32
32 "Whatever I command you, be careful to observe it; you shall not add to it nor take away from it.

Galatians 1:6-9
6 I marvel that you are turning away so soon from Him who called you in the grace of Christ, to a different gospel,
7 which is not another; but there are some who trouble you and want to pervert the gospel of Christ.
8 But even if we, or an angel from heaven, preach any other gospel to you than what we have preached to you, let him be accursed.
9 As we have said before, so now I say again, if anyone preaches any other gospel to you than what you have received, let him be accursed.

This then is the totality of who you should believe and in effect you are believing God. Anyone coming with a different message should not be believed. So if indeed, the word of God was completed in the first century where have all these religions come from? All these doctrines, all these conferences, all this confusion has come from men and women and in effect they have worked against God, not respecting His word. God uses the example of a little leaven leavening the whole lump and it is true when people are even only a little careless they destroy the result God intended.
Matthew 16.5-12
5 Now when His disciples had come to the other side, they had forgotten to take bread. 6 Then Jesus said to them, "Take heed and beware of the leaven of the Pharisees and the Sadducees."
7 And they reasoned among themselves, saying, "It is because we have taken no bread."
8 But Jesus, being aware of it, said to them, "O you of little faith, why do you reason among yourselves because you have brought no bread? 9 Do you not yet understand, or remember the five loaves of the five thousand and how many baskets you took up? 10 Nor the seven loaves of the four thousand and how many large baskets you took up? 11 How is it you do not understand that I did not speak to you concerning bread?—but to beware of the leaven of the Pharisees and Sadducees." 12 Then they understood that He did not tell them to beware of the leaven of bread, but of the doctrine of the Pharisees and Sadducees.

Galatians 5.9
9 A little leaven leavens the whole lump.
The doctrine of Martin Luther with all the courage of that man, nonetheless added a little leaven. Others, during that same period developed supporting material around the initial error forming the essence of belief used by most protestant groups today. God's desired result is indeed destroyed by the Protestant belief system, namely the salvation of souls.
The Catholic Church is not an example of leaven but of people taking a bizarre license to entirely, grossly modify God's word. In God's word there is no Pope, no Catholic Church, no humanly office of priest in the new testament, no Eucharist, no mass, no mortal or venial sins, no infant baptism and hundreds, perhaps thousands of other doctrines. Catholics would like to have Galatians 1.6-9 (above) read that although no one can change the gospel preached by Paul including an angel from heaven that the pope can make changes. Of course, scripture does not so indicate and also of course there is no such office in the new testament. God, you should realize is perfectly serious about His word. It provids the instructions men and women need. Regardless of whether the intentions are good or evil, one must not tamper with God's word.
WHY IN THE WORLD would you want to believe anything different than that which God delivered? God's plan is now clear from Genesis 3.15 and the fulfillment is gradual and accurate with its culmination in Jesus death, burial and resurrection and then the resulting gospel. This is what you can believe and not any man or woman because they add to in places, and take away in places and frequently create something entirely different.
How Will You Answer God for Your "Idolatry"
If at the end of your life you find yourself in a lost condition as the result of what you believed how might you explain yourself. It is better to face that possibility now and perhaps find that your belief's may not be as solid as you thought than to fail and then realize the weakness of your position. A belief system different than that which comes from God is idolatrous because your worship, your allegiance is to something other than the God of heaven. You can say you follow God, even Christ but if you practice doctrines different than the doctrine of Christ you are either "worshiping" yourself (creating your own belief system) or essentially worshiping some man/woman following after their doctrine.
So, we will look at a Muslim, a Catholic, a Mormon, a Protestant, one who worships in an Eastern religion and an Atheist. Finally a person who follows the teaching of Christ will summarize the reasons for his/her beliefs. The point is simply that those who follow after other than the true God, the creator are typically very weak in their defenses and in fact have many doubts – deep down they are suspicious of deceit. Now, of course I am providing their answers but they are the answers I have received over many years of asking people why they believe and about their doubts. Based on this I formulated reasonable excuses they might suggest before God.
Islam, a Muslim Speaks
If you are a Muslim, will you say, "I believed Mohammed because HE SAID HE RECEIVED A MESSAGE from the angel Gabriel." I was strongly indoctrinated since a child and it seemed there was no freedom of thought in these matters. So many people followed Islam and the sheer number of people influenced me. I wish I would have been allowed to study the scriptures (bible) everyday so I could have determined for myself what was true. It should have bothered me that the basis of Islam was really in the bible. The violence, the treatment of women, the desire to rule nations, the emphasis on the physical even beyond this life are just a few of the reasons I was suspicious. I was also cautious, because although there was a peacefulness there was also fear of expressing any doubts.
Catholicism, a Catholic Speaks
If you are a Catholic will you say, "I believed the pope because there was a long tradition of Roman Catholicism." I knew there were many bad popes, many cruelties and murders done to innocent people and that Catholicism ruled over or tried to rule governments. I knew that many priests abused children and probably their celibacy played a part. I believed that Matthew 16.16-19 placed Peter as the pope although in no way was that clear. I was taught I could not understand godly matters without the Catholic Church guiding me. I guess I was really not very discerning or did I really have a love of the truth, after all my family has been Catholic "forever." I knew the bible was forbidden to be read and then it was good to read and even encouraged. I knew many of the long standing traditions and practices of the Catholic Church originated during the time of the truly evil popes. I should have realized that such paranoid leaders would do anything to sustain their power including filling the gaps in the popes from Peter until their invention of the Catholic belief. Now, I realize I never understood the scriptures but always had the weight of the Catholic Church directing me, explaining to me what they wanted me to understand.
Mormonism, a Mormon Speaks
If you were a Mormon will you say, "I believed Joseph Smith received the golden plates from the angel Moroni and translated them to the book of Mormon, doctrine and Covenants and the Pearl of Great Price." We accept the bible and use it but we were really directed as to what it taught. Everyone accepted it and the other books from Joseph Smith. I guess I never questioned the eternal value of the Book of Mormon. The Mormon emphasis on the family kept me highly interested in the Mormon Church but I seldom thought about the correctness of the doctrine.
Protestantism, a Protestant Speaks
If you are part of so many Protestant groups will you say, I believed those who broke away from Catholicism and taught a mental belief system for salvation. I thought the way people like Luther, Calvin and Beza and many others framed the Christian belief was logical. I did wonder why there were so many different versions of Protestant thought resulting from the protest of Catholicism. We had the Scriptures but for some reason we believed what was being taught instead of understanding for ourselves. I never realized how these fundamental teachings really originated from just a few men like Luther, Calvin and others.
Eastern Religion,
A Typical Believer Speaks
Eastern religions generally have one interesting thing in common and that is they have no Divine origin. They know their beliefs came from some man or woman. Perhaps in some unknown way they were enlightened. They seem to all have developed beliefs that are very altruistic, very much unselfish, very much the best of men's wisdom about how to live. They contain wonderful principles of kindness, sharing, concern and finding inner peace.
So, will you say, "As I looked around the world, I saw fighting, violence, cruelties and compared to my beliefs as a Buddhist, a Hindu, a follower of Confucius I concluded my ancestors had a better idea. Also, the other religions of the world were often strongly associated with or in support of these many cruelties of men to other men. Yet, to me the connection to God, the creator was always unclear. It was the best I knew so I never looked further.
Atheist, an Atheist Speaks
Atheist or Agnostic, there ultimately is not much difference. What can they say? I really thought all this could have just happened from nothing, well I hoped that was the case. Quite a few people including some scientists thought it was possible. Once I thought about a pair of shoes and wondered if I could sit and watch that pair of shoes for a trillion years if they would ever tie their own knot but concluded it would never happen. I should have known all this incredible complexity did not just happen. I was a long way from the truth because I never got past God's existence.
Christian, a Christian Speaks
On the other hand, one who truly dies as a Christian, having lived faithfully can expect heaven.
If you die just being a Christian you can say, "I saw the pattern of God from the beginning and how it all played out from Genesis 3.15. I obeyed the gospel just as did those on the first Pentecost after the death of Jesus. God added me to the Church, the spiritual body of Christ and I worshiped in Spirit and Truth as defined in His New Covenant. I did not believe any man but believed those authorized by God and confirmed in the first century with signs and wonders. In this way, the word of God is what I followed. God made certain that the word would arrive intact down through the centuries. It seemed obvious to me that all those coming with new revelations, after man was given all he needed in terms of life and godliness were imposter's. I was always encouraged by the many churches which had absolutely no connection, no central authority would teach the same thing when they used ONLY the bible as their rulebook. That did not surprise me since independent local churches fit the new testament pattern. Men and women in their wisdom create churches that are much different and not surprisingly they teach hundreds of different doctrines. I did study the scriptures every day to see if the things I understood were truth.
A common perception is that if you believed someone and they were wrong you were simply fooled. It was not your fault, you were deceived. Jesus made many comments explaining how God views this, such as:
Matthew 15:14
14 "Let them alone. They are blind leaders of the blind. And if the blind leads the blind, both will fall into a ditch."
Matthew 23:15
15 "Woe to you, scribes and Pharisees, hypocrites! For you travel land and sea to win one proselyte, and when he is won, you make him twice as much a son of hell as yourselves.

Matthew 15:9
9 And in vain they worship Me, Teaching as doctrines the commandments of men.
2 Thessalonians 2:10
10 and with all unrighteous deception among those who perish, because they did not receive the love of the truth, that they might be saved.

You can see the pattern, the seriousness of God regarding His word. Anything other than the truth will not benefit but destroy souls. Look at the seriousness of God's plan culminating in the death of His Son. Life is not about this life and not about the way you likely think life and the afterlife ought to be. You can only understand God inasmuch as He has revealed Himself. You might think the God of the bible is unfair but that is your idea or the ideas of others. Thinking this way may be the thing that keeps you from seeking God and obeying the God of the bible.
How dearly we hold to what we have been taught
You believe mother, father, other family members, your friends, some Priest or Pastor or Preacher or Rabbi, or Mullah, or Pope, or Guru, or Imam, or Overseer, or Bishop, or Elder, or Swami or Ayatollah but they will not stand with you before God at your judgment. It will be just you! So, stand alone now and make the right decision, follow God and not any man or woman.
I said do not believe me – personally the things I teach I believe are the truth because in totality they make great sense, everything fits perfectly together. In God's plan, Faith plays a central role but it is not a mystery but originates from God's word. God intended for people to grow in a knowledge of Him and thereby faith is increased and indeed you can see how all things fit perfectly together. Just as certain is your march away from God if you believe what men/women teach. Believe God, learn how to believe God.
The distinction you need is simply to realize what you would like to believe, what you have been taught may not be true and then that YOU are capable of getting to the truth about life. How badly do you want a great ending to your life culminating in an incredibly better next life?