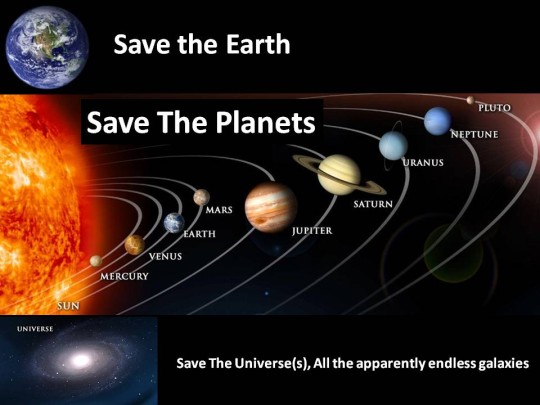 It is a good thing to preserve the planet for future generations. Man may be right or wrong regarding the threat of global warming – climate change – or global cooling. Man in fact may or may not be able to impact such phenomena either by causing it or by correcting it. If you understood God, you may not be as concerned. Life is not about man's harming the planet or about man saving the planet. I know that supporting efforts to keep our water clean and usable, doing what we can to reduce air pollution, and similar efforts are worthwhile. In this matter, there should be individual consideration, and local and/or national government policy. These things do save life's, and allow for a healthier existence. However, life is about saving your soul and there is no environmental category in relation to achieving that goal. Your life will end and it will be judged relative to how you did in the battle between good and evil – that is your personal battle with sin. If you were an "earth polluter" or if you did not separate out your plastics from the rest of your trash it will not matter. Of course, if in the process of polluting you managed to harm others and did this with such an intent or did it for your own gain while doing harm to others this could be something that causes you eternal loss. However for such a person, this will undoubtedly not be the only sinful thing in your life. There will be hundreds of other things related to your selfishness and lack of concern for others. God, in the end will destroy the earth, all the planets, everything because it was just here for man.





There are thousands of causes like, "save the earth" that are notable and have some value and people get deeply involved in these causes. Again, this is fine BUT these things could cost you your soul because they become your life and you ignore, "save your soul." Your pursuit of salvation needs to be the number one thing in your life. Is it more important than the college education of your children? Yes, much more important! Is it much more important than your financial well-being? Yes, much more important. You want to align with God's purpose and that means doing what is necessary to assure heaven. That may sound selfish but it is not because the only way you can truly help others is by getting yourself into a saved position and stay there. A part of "staying there" is to carry the message to others and of course your loved ones will be high on your list. A person who is aligned with God can handle the difficulties of life. If you have taken care of your children's spirituality by pointing them in the right direction and they responded appropriately that is much more important than any education they might have received. That child can die of a disease, or in an accident and you can manage that because of your faith and for those who know and understand God, your faith has become sight – there is no doubt. You indeed understand what life is all about.
You cannot compare any human cause to the value of your soul and yet many people work hard at hundreds of noble causes while ignoring the real purpose of life. These causes are really just a distraction from what you really need. The interesting thing is many of the causes that have value are best improved if people are living the principles of the creator. In many, many cases the root cause is sin as God defines sin. Your cause thus, very likely exists because of sin. God will not allow you to ignore the suffering around you but you need to act as an individual in whatever way you can to help. Just do not get caught up in some cause that disconnects you from the path to heaven.