Heaven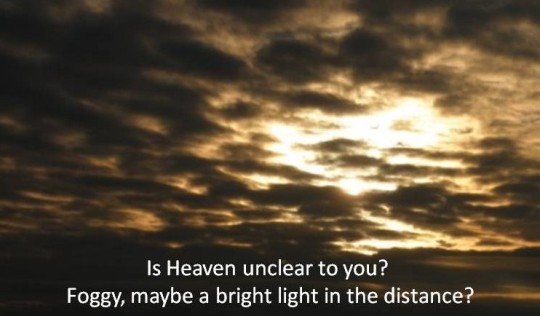 Heaven is one of the most searched things on the Internet. Much is just for curiosity and the remote possibility that you could receive the correct answer. You might think chances are just as good on the Internet as they are in some church. Actually, you would be right simply because you can investigate without having some well honed teacher with a specific doctrine "indoctrinating you." YOU can sort truth from error because it does not take some highly trained person, himself or herself already indoctrinated to a given belief to show you the way. God's plan has you making choices, and with a good heart you will make the right choice because you will not accept less than the truth. A good heart and the right attitude are much more powerful than a lifetime of study at some religious school. How do we know that? We know because those religious "schools" produce a hundred different doctrines AND because God's way to truth is designed for those who have a love of the truth.

Heaven and heavens are used interchangeably to mean the best possible result, a successful result for each person. Heavens is ALSO used to mean the system of stars, planets and galaxies as we look into the sky. It is the heavens of Genesis 1.1.

Genesis 1:1
1 In the beginning God created the heavens and the earth.
Heaven is the place of God and there is different terminology used for different reasons (heaven of heavens) but needless to say heaven needs to be your final destination.
Frequently, the word heaven invokes its dreaded opposite, namely hell. Heaven and hell or heaven or hell because of the contrast inspire wonder, curiosity, anticipation and fear. Another common phrase is the gates of heaven or the gate to heaven and conversely the gates of hell but these are not common expressions used in God's word. Gate of heaven is used in Genesis 28.17. People have interest in this idea because they assume this is where they will appear, at some entrance(if they still exist). Another very common questions is where is heaven or where is hell. Heaven coach and associated websites and books ("What Is Life All About?) answer these questions from different perspectives although the answer is always the same. This page called "Heaven" is concise and should begin to build a foundation for your understanding. Heaven is serious and you can be certain of success, ending up in a place beyond your imagination.
The following verse holds such promise and God wants you to know what lies ahead for those who are successful in life.
1 Cor 2:9
9 But as it is written: "Eye has not seen, nor ear heard, Nor have entered into the heart of man The things which God has prepared for those who love Him."
Of course one cannot picture heaven but from the characteristics provided by God you may be able to create some idea of heaven. Humankind in every case will transition from the physical to the spiritual. Some will transition to heaven. The picture represents heaven as an unknown because so many people live believing death is the end of their existence. At best they have some unknown, unclear concept of heaven. One of the most powerful things to help you succeed in life is to keep your eye on the goal. Heaven needs to be very real for each person and it will only be that way when you understand God and His purpose for you. It should be the hope for every person and the most important thing in your life to do all you can to achieve heaven. Heaven should be clear to you in its reality, but as the verse above suggests hopeful and exciting in the magnitude of its wonder, its magnificence.
Hell on Your Mind
There is a huge emphasis on hell and I think it is because people believe they could survive eternity with less than heaven promises. However, they could not go through eternity suffering in some terrible manner. Anyway, the thought of such an afterlife (Hell) makes many deny God all together. It is just too "heavy" too burdensome, too uncomfortable. God could not possibly condemn people eternally. Tons and tons of human wisdom and none of it has any validity. Spiritual things must be revealed from God and God points to an eternal existence away from His presence and describes it in physical terms in a way that makes one understand the severity.
Death Is Extremely Fearful
Due to The Possibility of Hell
Death becomes an extraordinarily dreaded thing. It is not talked about or allowed to enter your mind. Now the apostle Paul talked about the next life and said he was torn between being on earth serving God or to be with Christ, which was far better. In the book, "What Is Life All About?" you will know for certain life's purpose. The extent and quality of your knowledge depends on you.
Why Did God Create Man?
As you understand God better, which is part of coming to a full confident understanding of your purpose; you should be able to comprehend with certainty why you exist. It would seem very apparent from scripture that God created man with the thought of having man share eternity with Him. We see "other beings" have failed and it was due to pride, that is, angels were rejected and now are referred to in some manner as devils. Mankind is now being tested and the prize is heaven. Frankly, the test is not easy because there are desirable choices that improve or appear to improve your temporary existence on earth but destroy your eternity. You need to see beyond these temporary gains, pleasures and keep your eye on the eternal. Can you do that? It turns out that not many people see the big picture. In any case it is always your choice. There are thousands of ways to put God out of your life, which will allow you to enjoy guilt-free the many things God has forbidden. This is the choice many people make, but there is a great deal of evidence that this is a terrible choice.

Truly, right choices end up being light afflictions
I know this, God will have those with Him in heaven who made the right free will choices. God receives those who have made the difficult, unselfish choices. They will have endured, overcome and obeyed His Son. They will in deep gratitude and humility receive the incredible benefit that we refer to as heaven. A very powerful verse that sums up much of what awaits us and emphasizes God's purpose is:
2 Corinthians 4:17
17 For our light affliction, which is but for a moment, is working for us a far more exceeding and eternal weight of glory.
As difficult as life can be the eternal wonder and glory of heaven makes life's journey including at times some excruciatingly difficult periods appear as a light affliction.
The Certainty: God Will Achieve His Goal
God will have exactly the kind of person He seeks to share heaven, no mistakes will be made. The great thing is that any person can achieve heaven, it is a decision that you will make. Making no decision is the same as making the wrong decision.