Gods Severity
Gods Severity
Understanding God's Power and God's Severity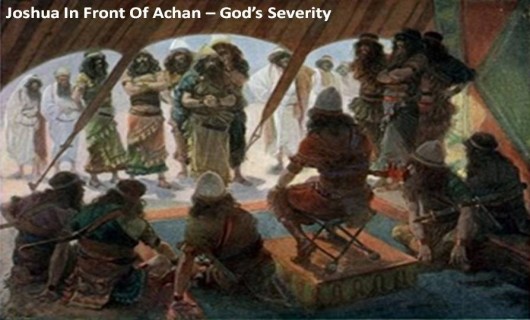 We see God's power in the creation but as God uses that power with severity in delivering justice it can be worrisome. God is very serious about delivering the opportunity for eternal life and just as serious about justice and God defines justice in a very perfect manner. The severity is not just fearsome but it is reality! God has placed severity in His word because it represents how God deals with man. It might scare you and it should because the fear of the Lord is the beginning of knowledge.
As humans we know of suffering and frequently ask, "Why Suffering"?
We ask, What is suffering, why pain and suffering and why do I or my friends or family suffer from this or that or most frequently how can a God of love allow suffering?

The Severity of God
We carry around with us the idea of God's goodness and God's love. It is comforting. It is comforting to think of this love in reference to our own death or that of our loved ones and friends. There is an abundance of evidence from God that God is a loving God.
John 3:16
16 For God so loved the world that He gave His only begotten Son, that whoever believes in Him should not perish but have everlasting life.
God has a unique love for His creation as can be seen for one thing in His patience, or that old English Word, God is long-suffering toward us.
2 Peter 3:9
9 The Lord is not slack concerning His promise, as some count slackness, but is longsuffering toward us, not willing that any should perish but that all should come to repentance.

It is necessary to have an equally proportioned understanding of God's severity. Throughout this website and the book "What Is Life All About" there is an emphasis on gaining an understanding of God. Most fundamentally, we need to be certain we understand God's purpose and plan. If we can do that, we can see that purpose and plan interwoven into all things in relation to our salvation. Thus understanding God is critical to gaining a correct perspective of God's severity. This page is divided into three titles:

(1) Sins that will keep you out of heaven
(2) Statements that God has made, and
(3) Examples of God's Severity.

Sins that will keep you out of heaven
First, any sin will be a barrier between you and God. Forgiveness of sins is required to have an eternal relationship with God. Now, God has singled out certain sins in the New Testament and indicated those that do such shall not enter the kingdom of God. These are particularly bad things in that they are not easy to overcome and quite often even become a way of life. They often have a negative influence on others, and God abhors them. These sins represent very selfish things, a self-indulgent sensual-pleasures total way of life. People involved in these things will do whatever it takes to get what they want. God provides the categories of sinners that will not attain heaven. Fornicators, idolaters, adulterers, homosexuals, sodomites, thieves, covetous, drunkards, revilers, extortioners will not inherit the kingdom of God.

1 Corinthians 6:9,10
9 Do you not know that the unrighteous will not inherit the kingdom of God? Do not be deceived. Neither fornicators, nor idolaters, nor adulterers, nor homosexuals,[a] nor sodomites,
10 nor thieves, nor covetous, nor drunkards, nor revilers, nor extortioners will inherit the kingdom of God.
God begins this list by saying, "Be not deceived," or in other words, do not take these things lightly. In this present time, frequently these categories find acceptance. In reality, one should not believe he or she could enter the kingdom of God by practicing such things. You should understand that society might accept such behavior or minimize its seriousness. God, however, will not accept such conduct. Participating in such things may or may not enhance your short life here on earth, but their practice destroys your eternity.

Statements that God has made
Jesus told the Jews unless you believe I am He, you shall die in your sins.
John 8:24
24 Therefore I said to you that you will die in your sins; for if you do not believe that I am He, you will die in your sins.

Jesus is the only answer. There is no other path to God.
John 14:6
6 Jesus said to him, "I am the way, the truth, and the life. No one comes to the Father except through Me.
Jesus set a more difficult standard for various things, indicating that God sees the heart of man. Certain things like anger in some cases would be the same as murder (even if the act were not committed), likewise a man who looks at a woman to lust for her has already committed adultery in his heart.
Matthew 5:21,22 & 28
21 "You have heard that it was said to those of old, 'You shall not murder, and whoever murders will be in danger of the judgment.'
22 "But I say to you that whoever is angry with his brother without a cause shall be in danger of the judgment. And whoever says to his brother, 'Raca!' shall be in danger of the council. But whoever says, 'You fool!' shall be in danger of hell fire."
28 But I say to you that whoever looks at a woman to lust for her has already committed adultery with her in his heart.
God indicates how He looks at those who reject His wisdom.
Proverbs 1.24-29

24 Because I have called and you refused, I have stretched out my hand and no one regarded,
25 Because you disdained all my counsel, And would have none of my reproof,
26 I also will laugh at your calamity; I will mock when your terror comes
27 When your terror comes like a storm, And your destruction comes like a whirlwind, When distress and anguish come upon you.
28 Then they will call on me, but I will not answer; They will seek me diligently, but they will not find me.
29 Because they hated knowledge And did not choose the fear of the Lord
This fearsome side of God you may not know about. God loves man, but His Son, Jesus and His advice are not trivial. It is interesting how one person can look at what God says here and take it very seriously and strongly want to do everything that will satisfy the creator, a creator who loves him as seen in Christ. Another person might say, "I want nothing to do with 'this god' as I do not like what is said here. This cannot be God." The problem as always is not with God, but behind the problem is what I want, what I think; and as God says, pride goes before destruction (Proverbs 16.18). Pride is on the list of things God hates:
God mentions "seven" things He hates:
Proverbs 6.16-19
• A proud look
• A lying tongue
• Hands that shed innocent blood
• A heart that devises wicked plans
• Feet that are swift in running to evil
• A false witness that speaks lies
• One who sows discord among brethren
Chapter 34 of "What Is Life All About?" discusses each of these things under the category of "those who will not be in heaven." God points out these things because of His resentment for them. Part of understanding God is simply to understand that He hates. The one thing we know He hates is sin, which makes sense since sin is a transgression of God's law.
Somehow, these sins mentioned above qualify as hated. We may not understand the nature of God's hatred accurately, but I think we can understand the potential seriousness of doing things that God hates. I hope that we can see the wisdom of seeking forgiveness and changing our life.
Examples of God's severity
1) Following the lie of Ananias and Sapphira, God struck them dead.
Acts 5.1-11
1 But a certain man named Ananias, with Sapphira his wife, sold a possession. 2 And he kept back part of the proceeds, his wife also being aware of it, and brought a certain part and laid it at the apostles' feet.
3 But Peter said, "Ananias, why has Satan filled your heart to lie to the Holy Spirit and keep back part of the price of the land for yourself?
4 While it remained, was it not your own? And after it was sold, was it not in your own control? Why have you conceived this thing in your heart? You have not lied to men but to God."
5 Then Ananias, hearing these words, fell down and breathed his last. So great fear came upon all those who heard these things.
6 And the young men arose and wrapped him up, carried him out, and buried him.
7 Now it was about three hours later when his wife came in, not knowing what had happened.
8 And Peter answered her, "Tell me whether you sold the land for so much?"
She said, "Yes, for so much."
9 Then Peter said to her, "How is it that you have agreed together to test the Spirit of the Lord? Look, the feet of those who have buried your husband are at the door, and they will carry you out."
10 Then immediately she fell down at his feet and breathed her last. And the young men came in and found her dead, and carrying her out, buried her by her husband.
11 So great fear came upon all the church and upon all who heard these things.
2) Nadab and Abihu made an offering different than they were supposed to, and God destroyed them.
Leviticus 10.1-3
1 Then Nadab and Abihu, the sons of Aaron, each took his censer and put fire in it, put incense on it, and offered profane fire before the LORD, which He had not commanded them.
2 So fire went out from the LORD and devoured them, and they died before the LORD.
3 And Moses said to Aaron, "This is what the LORD spoke, saying:
'By those who come near Me
I must be regarded as holy;
And before all the people
I must be glorified.'"
So Aaron held his peace.
3) God destroyed the world (except for eight souls) by water due to their wickedness and that every intent of the thoughts of their hearts was on evil continually.
Genesis 6. 1-8
1 Now it came to pass, when men began to multiply on the face of the earth, and daughters were born to them,
2 that the sons of God saw the daughters of men, that they were beautiful; and they took wives for themselves of all whom they chose.
3 And the LORD said, "My Spirit shall not strive with man forever, for he is indeed flesh; yet his days shall be one hundred and twenty years."
4 There were giants on the earth in those days, and also afterward, when the sons of God came in to the daughters of men and they bore children to them. Those were the mighty men who were of old, men of renown.
5 Then the LORD[b] saw that the wickedness of man was great in the earth, and that every intent of the thoughts of his heart was only evil continually.
6 And the LORD was sorry that He had made man on the earth, and He was grieved in His heart.
7 So the LORD said, "I will destroy man whom I have created from the face of the earth, both man and beast, creeping thing and birds of the air, for I am sorry that I have made them."
8 But Noah found grace in the eyes of the LORD.
1 Peter 3:20
20 who formerly were disobedient, when once the Divine longsuffering waited[a] in the days of Noah, while the ark was being prepared, in which a few, that is, eight souls, were saved through water.
4) The stoning to death and burning of Achan, his family, and all he had for "his disobedience." Achan had taken some of the spoils that God accursed.
Joshua 7:10-25 10 So the LORD said to Joshua: "Get up! Why do you lie thus on your face?
11 Israel has sinned, and they have also transgressed My covenant which I commanded them. For they have even taken some of the accursed things, and have both stolen and deceived; and they have also put it among their own stuff.
12 Therefore the children of Israel could not stand before their enemies, but turned their backs before their enemies, because they have become doomed to destruction. Neither will I be with you anymore, unless you destroy the accursed from among you.
13 Get up, sanctify the people, and say, 'Sanctify yourselves for tomorrow, because thus says the LORD God of Israel: "There is an accursed thing in your midst, O Israel; you cannot stand before your enemies until you take away the accursed thing from among you."
14 In the morning therefore you shall be brought according to your tribes. And it shall be that the tribe which the LORD takes shall come according to families; and the family which the LORD takes shall come by households; and the household which the LORD takes shall come man by man.
15 Then it shall be that he who is taken with the accursed thing shall be burned with fire, he and all that he has, because he has transgressed the covenant of the LORD, and because he has done a disgraceful thing in Israel.'"
16 So Joshua rose early in the morning and brought Israel by their tribes, and the tribe of Judah was taken.
17 He brought the clan of Judah, and he took the family of the Zarhites; and he brought the family of the Zarhites man by man, and Zabdi was taken.
18 Then he brought his household man by man, and Achan the son of Carmi, the son of Zabdi, the son of Zerah, of the tribe of Judah, was taken.
19 Now Joshua said to Achan, "My son, I beg you, give glory to the LORD God of Israel, and make confession to Him, and tell me now what you have done; do not hide it from me."
20 And Achan answered Joshua and said, "Indeed I have sinned against the LORD God of Israel, and this is what I have done:
21 When I saw among the spoils a beautiful Babylonian garment, two hundred shekels of silver, and a wedge of gold weighing fifty shekels, I coveted them and took them. And there they are, hidden in the earth in the midst of my tent, with the silver under it."
22 So Joshua sent messengers, and they ran to the tent; and there it was, hidden in his tent, with the silver under it.
23 And they took them from the midst of the tent, brought them to Joshua and to all the children of Israel, and laid them out before the LORD.
24 Then Joshua, and all Israel with him, took Achan the son of Zerah, the silver, the garment, the wedge of gold, his sons, his daughters, his oxen, his donkeys, his sheep, his tent, and all that he had, and they brought them to the Valley of Achor.
25 And Joshua said, "Why have you troubled us? The LORD will trouble you this day." So all Israel stoned him with stones; and they burned them with fire after they had stoned them with stones.

How can God be a God of love
and be so severe?
I can only tell you why I think this is:

1)
Since God is perfect, He must administer perfect justice.
2)
The fact that God cannot lie means all He said must come to pass.
Titus 1:2
2 in hope of eternal life which God, who cannot lie, promised before time began,
Sin is a transgression of God's law and demands justice that can be either punishment or forgiveness.

3)
God, in view of perfect justice, did the most He could do for man. He gave His only Son as a sacrifice for each man's transgression of His laws. If man rejects this act of love on God's part, then God rejects that man. God puts it this way:
2 John 9
9 "Whoever transgresses and does not abide in the doctrine of Christ does not have God. He who abides in the doctrine of Christ has both the Father and the Son."
4)
In the case of Ananias and Sapphira, God made them an example for all the church, for all history. The church of God's Son is a serious thing. The saved are in the collective spiritual church. God's direct interaction with people, as in the case of Ananias and Sapphira, would end with the completion of the New Testament. People actually question God's actions relative to Ananias and Sapphira. Instead, it would be wise to understand how God looks at lies, especially lies to Him, as was this case.



I think it would be presumptuous of me to say I understand something like God's severity. That is why I just tried to present some Bible information relative to serious sins, some statements that God has made, and some examples of God's severity. God's character is a mixture of His love, the demands of justice, and His "emotions." There is probably more, and all we know is what He has revealed. The point I am trying to make is simply for you not to underestimate God's severity toward those that fail in this life.
Matthew 7.13,14
13 "Enter by the narrow gate; for wide is the gate and broad is the way that leads to destruction, and there are many who go in by it.
14 Because narrow is the gate and difficult is the way which leads to life, and there are few who find it.